2019: 52 Ancestors in 52 Weeks – Week 36 (Sept. 2 – 8): School Days
I "first" joined Amy Johnson Crow's 52 Ancestors in 52 Weeks on its "first" year in 2014… and what a whirlwind year that was… writing, editing and researching daily for 365 days! As much as I wanted to continue the following year, I found that I didn't have the time to continue another year with that type of research… although I did continue blogging and writing stories at my own pace, which allowed me to write on other topics as well as family stories when ideas came my way… but I've often missed it. The first year were no specific weekly prompts like today… but I'm taking a different spin on them. There will be some posts on a specific ancestor, but most will be memories that spring from those prompts. Head over to 2014 52 Ancestors in 52 Weeks to read about my ancestors in the first years challenge.
If you're new to genealogy, make your "first" stop to Amy's website for genealogy ideas or even join in on this 52 Week challenge… you learn by doing… not procrastinating! There is no right or wrong… anything you do is a start!
School Days
School days for me was so very different than for my ancestors…
From my older relatives, I've heard tales of how they had to walk miles to school… rain or shine… and if you were lucky enough to ride a bus, you still walked to meet it. My great aunt Myrt Bryan Poss told me how her brothers often carried her across streams… they didn't care if their shoes/feet got wet… probably one of those very brothers was my grandfather. Many times the boys didn't even go to school if needed to work on the farms… that's why so many never attended school past elementary school grades. If you lived in the mountains, it was often the snow that kept you from getting to school in the winter months. During the early days of school, it was only a one-house school where they all attended. Can you imagine attending school where all the grades were held in the very same room?
The 1930 census listed my grandfather, Paul P. Bryan and my grandmother, Evelyn Little as both being able to read and write… while the 1940 census listed their highest education completed as 5th grade. It wasn't often that children during those years were even able to continue their schooling… as they were needed at home or either working to help support the family. My father in law often talked about how he worked at the local corner grocery at age eight to help the family… he delivered groceries on his bicycle… where tips were often five cents. He attended school, but quit before graduation because a full-time job opportunity came his way. As full time jobs were scarce, he said he couldn't pass up the opportunity.
My father, Harold "Clayton" Bryan, had a better opportunity to graduate from high school, but he hated school… constantly skipping… and finally quitting at age 16; his father only eventually allowed him to quit by enlisting in the Navy. It was said, that after a few weeks, he begged his father to come for him, but he refused; daddy earn his GED while in the Navy. My father had actually enlisted in the Navy at age 15 with a fake birth certificate… but after a few weeks that were on to him.
The 1930 census listed my grandfather, Edgar T. McKinley and my grandmother, Ola Askew, as both being able to read and write. The 1940 census listed him as having a high education completed of 7th grade, while my grandmother was listed as completing only through the 6th. My mother always said that her father could never read or write well… grandmamma usually read everything to him. At night, she would open all the mail and read outloud them. I have seen her handwriting on letters, but mostly have only seen him write his name or fill out a check. Whether he actually finished through 7th grade, or could really read and write… he managed to buy a farm with 117 acres, and pay it off way ahead of schedule. He knew how to make and save money!
Memories of my mother's school days
"I met my best friend, Willie Mae Walker, on day one in first grade. We both looked at each other and said, "I don't think I'm going to like being here." We have remained friends from that very first day of school, even marrying men who were best friends, although we later both divorced them."
"I feel I grew up ignorant living on a farm… basically I only went to school and came home. I wasn't allowed to stay after school and participate in sports or other activities – that would have meant Daddy had to come and get me – he wasn't going to do that. I wasn't a city kid – they were mostly the only ones who participated in activities. I was a poor farm kid!"
"In school, if anybody's lunch was stolen, it always seemed to be mine. We never had loaf bread in our house, Daddy always said that it was like eating a wasp nest – too many holes. It seemed that everyone always wanted my lunch of biscuit and ham or sorghum syrup. I carried my lunch usually in a paper sack, and I always had to bring it home for mama to reuse again; I didn't have a real lunch box like the city girls – I was a country girl. I  do remember Mama packing me chocolate milk – she probably put it in a mason jar."
"I was sent to the principal's office one morning from an incident on the bus coming to school. The bus driver wouldn't make the boys roll up the windows and the air was ruining the girls hair on the bus, so I began singing the song, "John Jacob Jingle Hiemer Smith, his name is my name too. Whenever we go out, the people always shout, 'There Goes John Jacob Jingle Hiemer Smith! As you sing the verses, each verse is suppose to become louder than the last. I sang it all the way to school and drove the bus driver crazy that morning and he sent me directly to Principal C.C. Wills office. When I told him I was sent there, and that I was Leroy McKinley's sister, he just looked at me… he gave me ten cents and told me to go get myself a coke and sit down for awhile before going back to class. He had already had a run-in with my father over my brother, so he wasn't going to do anything to me."
"While attending Siloam Grammar School, Mr. Burke told the class to write a story. I never liked to write… but I wrote a story that he said was the best in the class; it wasn't a long story, as I wrote it quickly. I can still remember him praising me on it, but to this day I can not remember that story… sure wish I'd kept it. That's like the time you wrote a story  for school… about the window fan in our living room, and how we threw it in the dump after buying an air conditioner. You had liked the fan and how it made the house smell nice as it blew air in the house, circulating the smell of coffee in the morning. Then the fan was picked up out of the dump and painted green and went in someone else's house, where it didn't smell so good; you received an A on that story. I kept it for years and still even had it after I moved back to the farm, but later, I don't know what happened to it. In the Siloam grammar school, everyone always said that I was Mr. Burke's pet."
"We never had "trick or treat" when I was young, but we always had Halloween parties at school. No one came in any type of costumes though, there wasn't any money for that and we probably didn't even know what a costume for Halloween was… we just came in regular clothes. It was a party that included your entire family… I remember my brother and parents attending with me. We bobbed for apples, had haunted houses to walk through, and often even the father's bobbed for apples; I remember seeing my father bob for apples once. The mothers brought home-made cakes for the cakewalk, but my mother never made one… it was usually just certain mothers who baked them. Mama didn't socialize with too many people, she was a loner. While the parents mostly stayed inside, the kids played out in the schoolyard until way after dark… then we'd hide and jump out from behind the bushes trying to scare everyone… yelling boo."
"When I went to school in Siloam there was a small store not far from the school called Mr. Mooneyham's. The owners lived next door to the store – which sat just across the cotton field, on the other side of the school. I remember how we took turns crawling through the cotton field on our hands and knees to go and buy penny candy for everyone. It was a really small one-room store where they sold candy and a few odds and ends. While one person went, the others sat at the edge of the school yard to wait. The one day that it was my turn, I found our principal, Mr. Burke, waiting for me when I returned. He didn't do anything to me… he just told us girls to not do that anymore. If it had been the boys caught, they would probably have gotten paddled. One time Kendrick Lewis put a book in his pants before he was paddled, and then got in even more trouble. He was the doctor's son… and we were very good friends."
"Daddy and mama took me to town once to buy a special dress for a Valentine dance at school…. and I fell in love with a certain dress as soon as I saw it. The saleswoman encouraged me to try it on, even though I told her that my father wouldn't buy it. She insisted I just try it on and let him see how pretty I looked. I guess I did try it on, along with the one they picked out for me – a plain dress with a sweetheart neck – which I didn't like. When we returned home daddy handed me two boxes, and in opening them, I discovered that the dress I loved was inside one of them. I was so excited and couldn't wait to wear my dress… so excited that my father had bought me that dress, and I was so proud of it. I wore it to school the next day, and I was nominated for Miss Valentine of our room – and won. I'm sure I thought it was all because of that dress."
Early School Pics of me!
My memories of school days are not nearly as vivid… or remembered as my mothers.
From all my mother has told me, I wasn't fond of school when I began first grade… getting in trouble on the very first day as I didn't want to sit still in my seat… I wanted to go outside and play! While I don't remember… my mother told me that she had a slight run-in with my first grade teacher, Mrs. Couey. As I found it difficult to stay put in my seat, she put her hands on me…. lifting my chin up with her hand telling me that I had better not leave my seat again. Mama went in the very next morning and had words with her…  that it better be the last time she put her hands on me… and if she has a problem with me in class to let her know… and if hands were needed… it would be mama's; which would have been way worse as I probably would have gotten a switching! I think we all got along in class after that.
Being my father was very good in math, he was the one who always looked at my math homework… and on one occasion he discovered a test math problem marked incorrectly. Naturally, I couldn't wait for the next morning to take that paper back to my fourth-grade teacher, Mrs. Scarborough, with a note from my father. She didn't seem happy in having a parent correct her work, and didn't want to relent right away, but she changed my grade on that paper.
It seems I could never get enough of school during the year, as once summer was there, I played school… but this time I was in charge! As I lived near the high school, we girls dumpster dived for all the good stuff to use for our school playing. We found old test papers, books, sometimes even photos that hadn't sold and one summer I found a class ring; mama worked hard to find its owner, which she did… too bad I don't remember whose it was. I can still visualize those summer school playing days.. spread all out on one of grandmama's quilts… entertaining myself all day.
I looked forward to fifth-grade, as we moved across the street from Perry Elementary to Perry Junior High… that meant changing classes… a new thing for us and everyone looked forward to the change; we thought we were grown up now! It was four years there before I'd make the final change to Perry High School.
Junior High was my first taste of home economics… while I don't remember any cooking specifics, I do remember sewing. My first sewing accomplishment was a gathered apron… wonder what happened to that as my mother never wore aprons; apron wearing seemed to have died out with my grandmother's generation. We might have sewed a skirt that year also.
Perry Panthers… High School Motto
As a girl… school beginning meant shopping for new clothes, book bag, pencils and notebooks… and I've always loved paper and pens, and still do! I remember having several ink pens…. the ones that held colored ink filled cartridges. I also loved those pens that had four colored inks inside one pen… and recently was just given a new one. I'm still a collector today of various pens; office supplies at a tag sale often has me rummaging through. I almost choked in class from one of those regular Bic pens that had the small tab at the top of the ink barrel. My bad habit of biting on it to remove almost choked me when it popped down into my throat during class. Luckily I coughed hard enough to bring it up… and I don't think I ever put those pen tops in my mouth again!
Once I begged mama to not sew my clothes anymore… it meant shopping in Macon for dresses. We were only allowed to wear dresses in school until about my sophomore year in high school… but then it was only pantsuits, no jeans. I never wore jeans like I do today, but I did have several colored pairs of jeans that I'd bought at Tots' N Teens. That was all the girls favorite shopping store in downtown Perry. Even after marrying, I still kept a pair of those jeans… my favorite pink pair… keeping them for years even though they didn't fit… always hoping they'd fit again, but that never happened; I eventually let them go!
All the girls favorite shopping store downtown!
High School began in 9th grade for me… and it was scary being the lowest grade among all the older students. The school seemed big, although it only had a few long hallways… but trying to scramble from one class to another, hallways often seemed difficult in the beginning, but eventually it became like second nature.
I"m sure these are the very sewing machines I sewed my first dress on in Home Economics!
Home Economics was still offered in high school while I was there… now it's gone from schools; it gave everyone a taste of cooking, sewing and general household know how's. It was in high school that I remember making my first dress… learning how to put in a zipper… and I've never done it since but it's on my bucket list to learn again. I remember my first sewing accomplishment was a green a-line dress… fitting down to just a couple of inches above my knees. It was quite a good feeling when I was able to wear something I'd sewn from start to finish. Too bad I didn't save it… I'd like to see how well I sewed my first project. I don't think I had a lot of interest in sewing clothes as all during elementary school, my mother had sewed all my school clothes… and in junior high I remember begging for store bought clothes… so guess I wasn't going to go back to home-made clothes again. My mother pretty much always made her clothes as far as I can remember… often even making her own patterns.
Typing was another class I remember and liked in high school… I've always enjoyed typing… never hunt and peck for me! In the beginning class we only had plain typewriters but as we advanced into the second year, there were several electric ones that we all coveted to use. I liked typing so much that for one Christmas mama bought me a typewriter… and I still have it.
I wasn't much of a joiner in high school in the many clubs… but somehow I ended up in the Library Club… not sure how or why, but look… I'm in front of an electric typewriter? Hope they didn't make me use the scary card catalogue drawers… never liked looking for books using that number method… too time consuming for me back in the day to concentrate on!
The classes I never wanted to take were algebra and biology… and actually didn't take algebra. Math was always a weak subject for me… I don't think I put much into it as I asked too many questions and didn't want to accept the fact that you just do it a certain way… not questioning, just do it… but me, I always wanted to know why? Guess that's why my mother always said I should have been a lawyer… always asking questions and questioning everyone over everything! Even today I still see no point of algebra or calculus… but I remember many in school who actually enjoyed those classes.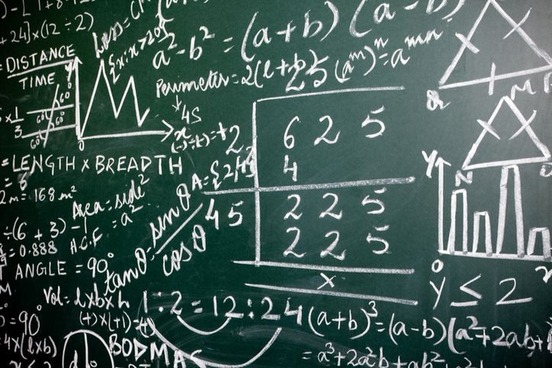 Who could figure this out… and why would you even want to?
I don't think I was a very good student, but now feel that I could certainly have done better with more motivation; there was never talk of college in my home, although I did mention it to my father once and remember him telling me he wasn't paying for me to party… guess he knew me! I've often wondered where my life would have taken me if I' had attended college… but I never had any idea of what I wanted to do… and still don't. If I had enjoyed writing and research like I do today… maybe I would have went into journalism. But all in all, I'm very happy I chose my route and a marriage to my best friend that has lasted 48 years and counting!
Biology was another "not" favorite subject of mine, and think I probably threw around the word "squeamish" in getting out of dissecting one of those poor frogs. I never took any advance Biology classes as they were given baby pigs to dissect… but there were many who loved those classes. When I think back, I'm not sure there were too many classes I loved… although I never hated going to school, I just didn't have any favorite classes like others did. I also found history boring…. if only I had the love of family research back then… then I would have found my favorite subject, finally!
I never played and sports in school… and hated gym classes in both junior high and high school… but my parents and I went to almost all of the high school basketball games. We had great basketball players… winning the state championships almost every year. I remember everyone and their parents coming to the local and state games… basketball was very popular in my hometown.
My daughter, Melissa, is behind the girl on the left, wearing the striped dress, in the front row. This must be either her kindergarten or first grade photo.
Letter from Mayor Ben DiLieto of New Haven, Connecticut
While looking through the many saved items of my daughter, I thought I'd include this photo and letter that she received while in school. During Christmas in 1984, her school class visited the office of Mayor Ben DiLieto in New Haven. In January she received a photo of her class with him in the Mayor's office and a letter personally signed. I always thought it very nice of him to have taken the time to send her class a photo, letter, and a pen… although I saved the photo and letter… the pen has escaped me… I'm sure she used it as he mentioned to do.
Stay tuned for Week 37: Mistake
Continue reading 2019: 52 Ancestors in 52 Weeks over HERE!
To read more Family Stories… click HERE.
© 2019, copyright Jeanne Bryan Insalaco; all rights reserved