Craft Junkie
"Thrum Mittens"
Are you already saying… what are thrums? Well, so did I when I first picked up a pair of squishy mittens in a Vermont knitting store last fall. As I stood there puzzled, the owner walked over and began explaining to me what they were, and told me to put my hand inside. I was hooked immediately! No sooner than I left the store, I googled "thrum mittens" and added them to my bucket lists of items to knit.
Thrum Mittens
Later that day I stopped at Green Mountain Spinnery in Putney, and bought a couple hanks of a "Nancy Drew" blue wool… not knowing what I was even going to make with it at the moment, but I didn't want to leave without buying wool from this awesome little shop. It had quickly become so crowded with woman buying wool for sweaters and such, that I didn't want to leave empty handed; it seemed to be quite the local popular spot! I'm definitely going back there for more of this "mountain mohair" I purchased and take a tour of their spinnery… and eat at the well-known Curtis' Barbeque eatery, just across the way. It had closed for the winter when we were there… and I was so disappointed, but gives me another chance to return… for BBQ and more wool!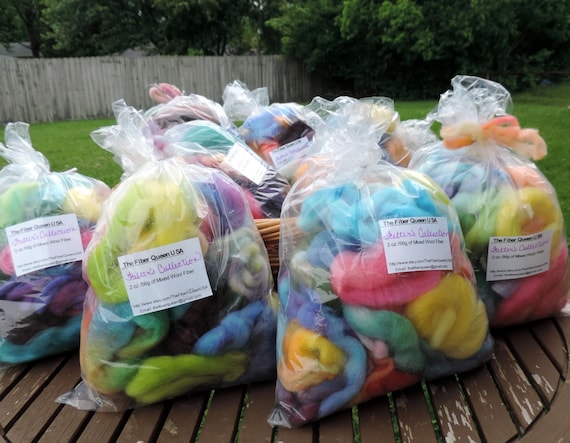 Mixed color rove from Etsy shop of The Fiber Queen
Yarn I used for my gloves
Thrum's are short lengths of waste yarn leftover from weaving looms… small wisps of unspun fleece, often referred to as roving. The thrums are knitted into mittens, socks and slippers to make the insides all squishy and fuzzy, and super warm. This specific way of knitting is most associated with Canada's Province of Newfoundland and Labrador… specifically very cold areas, where much warmth is needed when venturing outside. This type of knitting process has been around for over two hundred years… and I'm just hearing of it!
First row of thrums peeking out… reminds me of Troll Dolls!
The thrums are knitted along with the wool as a single stitch, leaving the hanging thrums inside the mitten to provide a warmth of insulation. Today, the thrums used are often called roving… unspun sheep's wool. As you knit, you incorporate small wisps along with your wool, and you'll soon see your mitten poofing up… filling with thrums inside. The unspun wool roving on the inside will eventually felt against the wool to form a cushioned warmth inside your mitten.
There are several free thrum mitten patterns on the internet, but I purchased my pattern off Ravelry from a girl in my knitting group… a link to her pattern "Thrum Away Mitten"  is HERE. I suggest making a practice square first to get a feel of knitting with the thrums and the correct size of the roving wisps needed. My first mitten came too poofy, so I ended up ripping it out and started over; I so hate frogging something that I spent hours on knitting. But I have to consider that a learning lesson and I think the second pair I was on track with, and had a better feel for making the correct thickness of "wispy" for the thrum. Check YouTube on the making of thrums… I found it helped after watching several videos to wrap my head around the process.
I have a few suggestions in following patterns that are not necessarily written line by line for your size, as this pattern is. I always miss something and then I'm mumbling while frogging. Read through the entire pattern, so you know exactly where you begin knitting the thumb and starting your decreases… I often make notations on my pattern to remind me where to begin or stop for certain changes. If you went through my printed patterns, you'd easily see by my writings as to how many rows I knitted… from all the chicken scratchings on the side. I tried using a finger counter, but found I often lost track of the counts when I took it off… so I'm back to pencil and paper in keeping up with rows… even though it probably does slow me down a bit!
Stitches marked on seperate thread for "afterthought thumb"
This specific pattern uses an "afterthought" thumb, and a trick I used was to place a stitch counter on the first stitch I made using separate yarn and another stitch counter on the last stitch in the thumb area; you'll thank me later! On my first mitten I used double-pointed needles (dpn), as written in the pattern, but I happened upon a magic loop tutorial by Knitpicks on YouTube for an afterthought thumb… and worked out much easier for me, as I had already knitted my mitten using magic loop from the beginning! I don't know about you, but I'm always changing up a pattern to better work for me.
I created personal "mini Love thrums" for my granddaughters in Florida…  they definitely don't need warm mittens! I didn't want them left out on being able to feel the softness of the squishy roving so I came up with this idea, and hope they'll think of me every time they feel the softness inside. It's their personal little love pocket from their GiGi!
As I began thinking of what I'll knit next when I'm through, or tired of, knitting thrum mittens, I googled and discovered that some also have knitted thrum socks and even slippers… I foresee another visit to the yarn shop in Putney, Vermont! And in not wanting to be left out, I have a garnet crimson red coming my way for my personal pair of Thrum Mittens… bring on the cold… I'll be ready to stay warm!
A peek inside the mitten… the more you wear, these rovings will felt with the wool and form a super warm interior!
If you've knitted thrum mittens or want to give them a try, do drop me a message as I'd love to hear how your mittens came… and if you need help, feel free to contact me.
Happy Knitting!
Like to read on more of my crafts, Click Craft Junkie
© 2018, copyright Jeanne Bryan Insalaco; all rights reserved